You're looking for a personalized pillow, but you don't have any design expertise?
Don't fret — It's Easier Than You Think!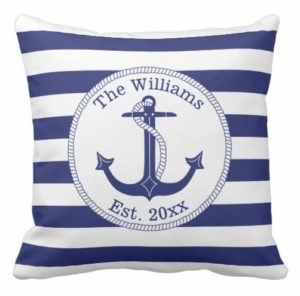 Let's start with
this
simple pillow featuring nautical blue and white stripes and an anchor with a family name and year in a circle. It's perfect for your boat, right?
Except that neither your boat nor your family is named Williams and "20xx" is only a year by some miscalculation of roman numerals.
Designer I Love Digis has already designed the pillow for you, and since this designer knows many people who'd love to own it aren't named Williams, they've made it easy for you to personalize it! On the product page, you'll see a box where you can change the name and the year. And that, my friends, is pretty much all you need to know to personalize your own pillow!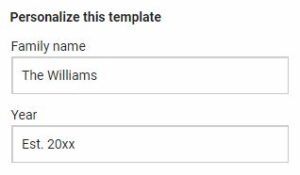 Ready to Try it?
Step 1: Click this link.
Step 2: Fill in the blanks.
Step 3: Admire your handy work.
Optional: Change the text repeat Step 3.
YES. It's that easy.
The really great part is that you get to preview your finished design right there on your screen! That's a big advantage over those places where you can order customized products, but have to wait until they're manufactured to see how they turned out.
Ready to Try Another One?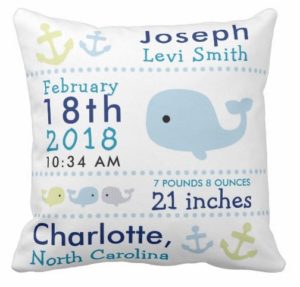 This nautical nursery pillow by Christine Bryk of Kookyburra has a lot more options, but it's just as easy to personalize.
Click here to try it!
That was easy too, right?
But Maybe You Want Different Words?
There are no limitations, so don't feel limited by the label we designers use! If you'd rather have a name than a city or boat name over a baby's name, feel free to edit as you please.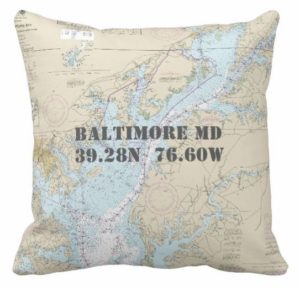 We've designed this nautical chart pillow using the official mariner navigation chart for the Chesapeake Bay region using Baltimore and coordinates for Baltimore's famous Inner Harbor.
You can change "Baltimore" to any city, name, or other words and the coordinates to any other location. You may also rather use the latitude and longitude for your home or yacht club, and it's easy to change. If you search the Internet for "latitude and longitude lookup," you'll find plenty of sites to help you get the right numbers. Google Maps also shows the coordinates of a location in your browser's web address bar.
Here are examples using family and boat names and switching up the latitude and longitude a bit.
Now That You Know …
Here are more nautical pillows which may be personalized that we think you'll love!
Still seeking the best pillow ever? Tell us what you're looking for here, and we'll find it for you.