Because 'Tis the Season to Share!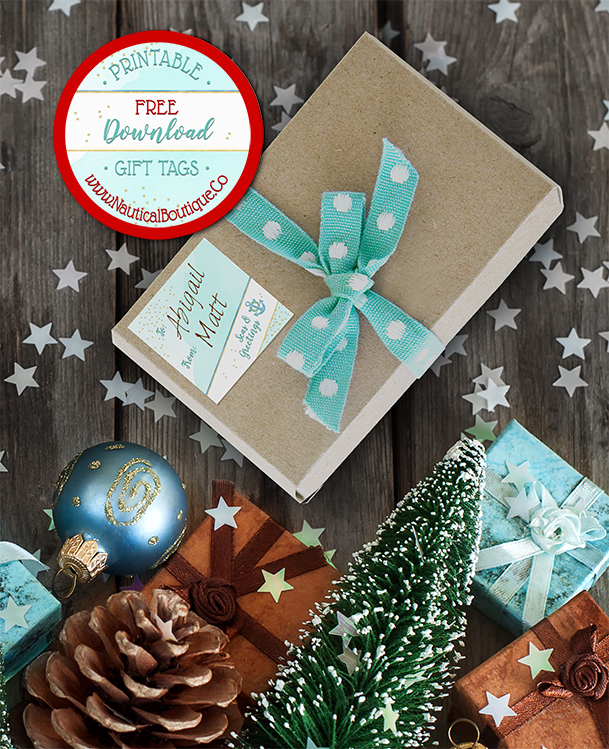 Free Nautical "Seas & Greetings" Gift Tags
We're so grateful for all of you who've helped make us a success — thank you! — and so we're giving a little something back. This is truly 100-percent free, and we expect nothing in return. Feel free to share this page with your friends, so they can download these gift tags too. We invite you to register, so you'll be able to enjoy future downloads which will be available to registered users, click here to register, but there's no obligation to do so.
Our only terms are these: They're for your personal use only and redistribution (except for on your gift packages!) isn't permitted. If you know someone else who would enjoy them, please direct them back to this page.
How to Use This Free Gift Tag Download
We've set up one 8.5- by 11-inch sheet to print 12 square gift tags on Avery® 2-inch sticker paper. Most office supply stores carry these blank sticker sheets, as do some craft stores. If you can't find them at your office supply store or craft store, look for full-sheet stickers instead — then you can print and cut squares. Alternatively, you can buy blank stickers here at Amazon.
Alternatively, you can print them on card stock purchased at your local craft store, office supply store, or here's a variety at Amazon. If you choose this method, you'll cut squares (we like to make nice straight cuts using a craft knife and metal ruler). Then you can use either double-sided tape to attach them to packages or make a small hole with a punch and tie them.
We really like these teal, white, and gold watercolor gift tags on brown Kraft© paper, but we'd love to see how you used them, too. Email your photos to us here.
Now that you have your sticker paper or card stock loaded into your printer, you can either click the link below and print right from your web browser or you can save the file and print from any PDF reader.
Note: When you open the file, you're going to notice there's a watermark which appears on your computer screen. Don't worry — it's non-printing and won't appear on your printed gift tags!
That's it! Ready? Right click and save the link below or click the button to open the PDF file in a new window and save.

Matching Seas & Greetings Gift Wrapping
To complement your freebie printable "Seas & Greetings" gift tags, we offer gift wrap, gift bags, gift boxes, and — for those who prefer not to print their own gift tags or don't have the resources — additional styles of gift tags.
Still Seeking the Perfect Gift + Tag Mates?
If you're looking for something special in any holiday design this year, get in touch with us. We'd love to create a custom design just for you!